Plus, thoughts on KyoAni, Toni Morrison, 'Tuca & Bertie,' and the birthdays of 'The Iron Giant' and 'Rocket Power.'
Scroll deep for the answer to an important corgi-related question about Cartoon Network's new miniseries Infinity Train in our exclusive interview with Justin Michael, one of the show's writers.
What's news, pussycat?
The latest pieces published on our site.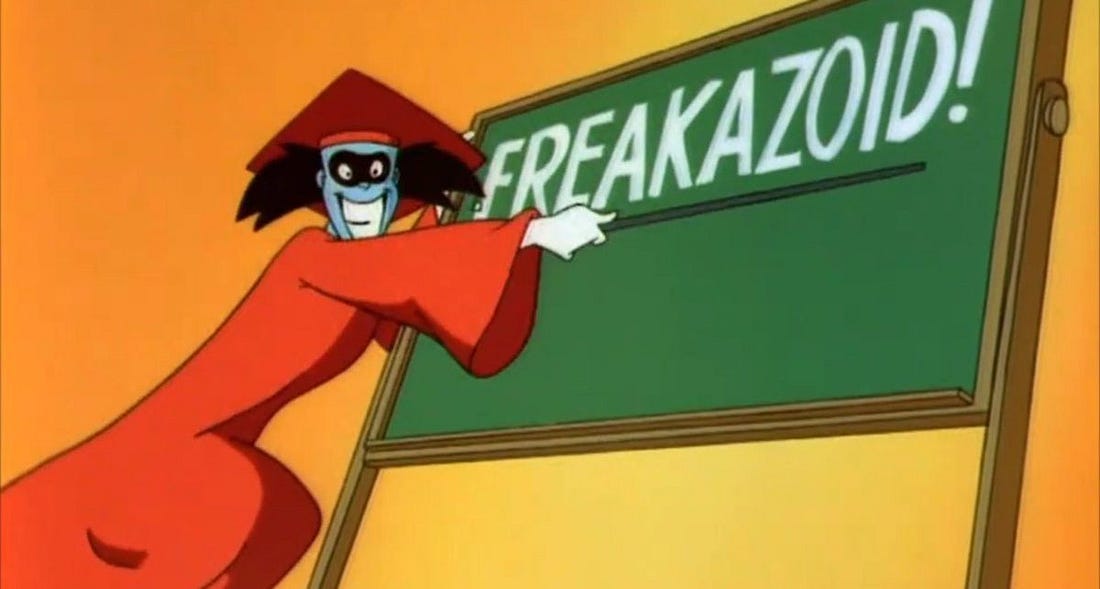 Writer Sean Fitz-Gerald brings you on a journey in this latest installment of our semi-regular column, "Is It Still Good!?," by taking the silly '90s artifact Freakazoid! very, very seriously. Is it, in fact, still good? And did Ricardo Montalbán, famed actor who Star Trek's wrathful Khan Noonien Singh, also star in the show? It's questions like these that keep us up at night.
Writers Charlotte Dow and Alex Costello and D&L special projects director Marley Crusch led the charge on our coverage of the buzzy festival out of Montreal. Check out their reviews of a few select animated films here: South Korea's Moon in the Hidden Woods, China's White Snake, and Japan's Birthday Wonderland.
"KyoAni makes me want to be a teen again," writer Molly Brenan said to her boyfriend during an episode of Sound! Euphonium 2, one of the many brilliant anime produced by Kyoto Animation, before writing this memorial piece. The studio, known for its fair labor practices and empathetic stories, endured a brutal terrorist attack in July, which killed 35, including director Yasuhiro Takemoto.
But it ain't me, babe
Great reporting on toons from sites that aren't the Dot and Line!
Happy birthday to toons
Every day brings another oppor-toon-ity for another classic's anniversary.
Rocket Power Turns 20: Newsletter-Exclusive!
Created by Arlene Klasky and Gábor Csupó (the same geniuses behind Rugrats), Rocket Power was exactly as intense and awesome as its name implied. This boldly animated show made surfing, skating, street hockey and other extreme sports #relatable for even the most land bound, un-sporty young viewers (like myself) with a heaping helping of family drama, struggles with not fitting in, and generally growing up in the late '90s. Despite turning 20 this month, Rocket Power still feels as rad and aspirational as it did when it first ran, and made all of us yearn to be cool skater kids who lived in Hawaii. So "woogity-woogity-woogity" into the next couple decades, and never forget the power of family, friendship, and righteous skate tricks! —Marley Crusch, D&L director of special projects
Sometimes true friendship comes from the most unlikely places, even, say, a giant made of metal that fell from space. In this reflection, newsletter editor Elly Belle revisits an old favorite in The Iron Giant, turning 20 years old this past month, and shares what she learned about friendship and vulnerability from this cult classic.
Other anniversaries this month of note: Regular Show is 10, Foster's Home for Imaginary Friends and The Venture Bros. are 15, Mary Poppins is 55, and Silly Symphony is 90.
Throwing it back
Revisit some favorites from our archives.
A quarter of a century ago, this network shook the world up and changed our Saturday morning couch potato cartoon binges with a side of cereal forever. From the Rugrats to Hey Arnold, Nickelodeon created a lifetime of memories…and an odd desire to slime or be slimed. Three years ago, we spent a whole month writing about them. Check it out.
The world lost a powerhouse literary voice with the death of Toni Morrison this week, which reminded the Dot and Line of this piece by co-EiC John Maher, which threaded the needle between her words and the empathy in Rebecca Sugar's Steven Universe.
What are we watching? What are YOU watching!?
SPECIAL CARTOON NETWORK EDITION: NEWSLETTER-EXCLUSIVE!
Friend of the site and Batman: The Animated Podcast creator Justin Michael wants you to watch…Infinity Train! Why? Because he's a writer on this newly premiered Cartoon Network miniseries. But we knew there was more to it than that. So we asked him!
Justin, in 83 words, tell us: what is Infinity Train?
It's a new series on Cartoon Network about a girl named Tulip who tries to go to game design camp but somehow ends up on a strange train with an infinite amount of cars full of just about anything. Puzzles, crystal forests, giant pinball machines… and a mysterious new glowing number on her hand. With the help of One-One (a robot) and Atticus (a corgi king), Tulip has to uncover the mystery of her number and find a way off the train. [Eds. note: We can't believe Justin actually hit 83 here. Bravo!]
Sounds dope. What was an average day like for you working on it?
Depends on the day! Broadly speaking, the first thing we did was sit down with Owen Dennis (the show creator) and Madeline Queripel (supervising director) to look at all 10 episodes at once. Since the show is serialized, we wanted to make sure the emotional journey and mystery elements tracked and felt satisfying. At that stage it felt more like writing a movie than TV since we were so focused on the macro, though I guess TV has trended more and more in that direction. From there, we'd be assigned episodes to be turned into one-page premises, expanded into outlines, and finally scripted—with meetings where we all pitched jokes and ideas at every step of the way. Like any show, it's always a collaborative process and never just one person's script, even if they have the solitary written-by credit. But there was also a lot of freedom to make an episode your own, especially since our show is script-driven, which is currently a rarer thing here at Cartoon Network. So I guess on any given day I might be writing a script, sitting in on meetings to weigh in with input on other scripts and storyboards, or y'know, just deciding the writers room should go see the Tom Cruise Mummy reboot because we are purveyors of fine cinema.
OK, but why corgis? And does Ein make a cameo?
They've got the best funniest butts in the animal kingdom! They were also an integral part of the show before I was hired. If you watch the 2016 pilot short, Owen chose to make Corginia one of the first places Tulip visits. Atticus is based on his childhood dog, so ultimately… that's why corgis! My first episode on Infinity Train was actually an adaptation of the pilot short, so I was pretty excited to expand the story to fill 11 minutes and introduce a new non-corgi character who's near and dear to my heart. An objectively beautiful dog who the corgis are grossed out by for no good reason. It was the first joke I wrote that felt like my own sense of humor shining through, and I wasn't sure how it would go over… but it stayed in the script and made me realize how much the writers room (and the entire crew) are my kinda people. And by my kinda people, I again mean people who WILLINGLY choose to see The Mummy starring Tom Cruise. In theaters. Oh, and no Ein cameo… YET.
Fine, fine, we can wait. In the meantime, what cartoons are you watching that everyone else should be watching? (Besides Infinity Train.)
I'm 8 episodes into Tuca & Bertie and love it so much. It's one of the funniest written shows that also happens to be driven by a visual elasticity that often only ends up in kids' animation, so it's so cool to see those two things paired so perfectly for adults. I love how the show constantly chooses to buck any sense of reality for the sake of the dumbest pun or transitional gag, but at the same time, it also sneaks up on you with some deeper, sadder character exploration that really caught me by surprise. I don't think I've seen any other show successfully straddle that line before, and it's exciting to watch and also super impressive. I'm very sad to hear it got cancelled. It's so rare to find a show that knows what it is right off the bat and nails its characters, comedic voice, VO, timing, color and everything in between so effortlessly. Seriously, most first seasons aren't this kind of polished! I hope the show finds a home on another network or streaming service. Also, everyone should check out The Fungies on Cartoon Network whenever it airs! There's only a couple shorts online at the moment, but I think people are really gonna love it. It's offbeat, colorful, genuinely funny—and is earnest and empathetic without feeling cloying or cheesy. Reminds me of old school Sesame Street and Henson-era Muppets. It doesn't talk down to kids, and I think that's important.
Aaaaand…that's all, folks!
Thanks so much for reading our newsletter, which is produced by Elly Belle! If you have any notes, feedback, or tips on what to watch next, email us at thedotandline@gmail.com. And if you like what we do, forward this to your friends and yell in their faces until they forward it to all of their friends. Until next time!
Love,
The Dot and Line